World record attempt with Mountain Goat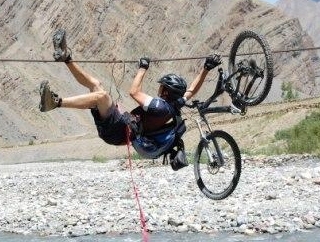 They are two companions who love to get ahead by climbing high. There's a place attracting them again and again – Himalaya. Rarefied air. Life at its limit. One of them is Mountain Goat's "little one", the twenty tooth chain ring stambecco. It doesn't mind to wheel in the thin air and is well grounded in Himalaya cycling.
The other one is Claude Balsiger, mountain bike travel guide of mountainbikereisen.ch. A Swiss guy to whom the air on his local mountains of 4000 meters a.s.l. seems to be not rare enough. In July 2010 he set off for a world record attempt, the stambecco and other Mountain Goat chain rings at his bike.

Since 2009 Claude prepared for this try – on the spot too. Together with the photographer Martin Bissig he reached 6000 meters and a bit more but then was snowbound in horrible thunderstorms while the Pakistani capital city Leh was ravaged by floods and mudslides. 2000 families lost their homes and many even lost their lives. For Claude these days were not only marked by the effort of the world record try but also by sorrows about Ladakhi friends, the families of local assistants and the difficulties to return from the spot while paths and roads were destroyed for many miles.

Since the middle of August Claude worked for several weeks for disaster relief and brought collected donations to those who needed.

We are deeply impressed by Claude's great feat, not only by his sports performance!

If Claude will try to get higher next time? We don't know. Anyway we will sponsor a new attempt.
Links:
Read the description of the project and know more about Claude and his world record attempt.
"Travelling you learn more about yourself than about the country." (Tibetan saying)